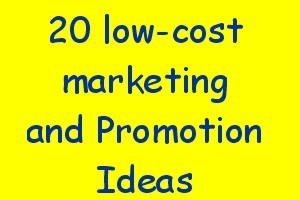 (1) Give Away Free Promotion Items With Your Business's Name and Contact Information.
Go to where your target customers hang out and set up a booth or table. Give out some freebies and a flyer or leaflet as well. Some examples of freebies include free magnets, rubber bands, rulers, note pads, etc. All of these items should have your information printed on them.
(2) Presentation seminars or speaking engagements.
Contact business associations and social network about making your presentations.
(3) Flyer / Business Card Exchanges.
Network with other local non-competitive businesses. See if they will display your business card or flyer in exchange for referrals, etc.
(4) Incorporate a Referral Incentive Program.
Offer your customers an incentive for referring customers to you. An incentive could be a discount on future business, a gift certificate, a gift, or whatever you decide that they incentive should be. You might also consider implementing a finders or referral fee.
(5) Vehicle Signage.
Shameless self promotion is the key. Custom printed magnets for your car are very inexpensive but very effective. Placing a magnet on your car gets everyone to know about your business. You will even get neighbors to refer you to other people without even having to say anything to them.
(6) Offer Free Consultations or samples  to Potential Customers.
Sometimes just offering the free consultation will land you the job, however, sometimes it won't. When a client meets with you, you already have your foot in the door, so I think that it is worth the risk (if you are just starting out that is).
(7) Friends and Family.
There is nothing shameful in asking your friends and family to spread the word about your services and how talented and skilled you are. This is what family and friends do naturally anyways. When you first start out, ask them to send out an email to their close friends and family members regarding your new business. It is hard to ask even your closest family members to do this, but it is also important to do everything that you can to start your business.
(8) Newspaper publicity, press releases, blog reviews
Find interesting angles about your company to send press releases about your business.
(9) Set Up An Account on Flickr and Other Photo Sharing Sites.
Flickr is very popular and if your designs are really good, you will make a name for yourself by placing your images on Flickr and similar sites. Here is a list of alternatives to Flickr (Photo Sharing Sites). Make sure to place good tags on all of your images. Also try to get your images into groups of similar items. Such as a group called 'Cool Brochures'.
(10) Print a Calendar for Your Customers.
Wouldn't it be a nice thought to print out a calendar filled with your designs and give it out to your customers? A calendar is usually displayed where everyone can see it and needs to be constantly referred to for dates. A calendar is a perfect promotional item for your business and is well worth the money.
(11) Networking.
Network every chance you get. Continuously give your business card out to as many people as you can. The easiest way to do this is by asking people that you talk with for their business card. You then have an easy way to give them yours. Take notes and if you were able to get a business card, take the time to send them a short email to thank them for their time.
(12) Printed Newsletters.
Although you are used to emailed newsletters, printed newsletters still exist. Utilizing printed newsletters is also an effective way to promote your business. Also by having a printed newsletter, you are collecting mailing address information about potential customers. Printed newsletters can be virtually free if you use your own printer.
(13) List Your company in the free internet listings such as Google Local pages.
Just type google local pages and add your company listing.
(14) Promote Yourself on Printed Materials.
Promote yourself by placing your contact information on all of your printed materials.
(15) Professional Groups.
Attend meetings for local professionals groups such as The Chambers of Commerce, etc. You can introduce your business and get the word out about your services and what you can do.
(16) Email broadcast – Send an Email to Everyone That You Know.
When you are first starting your business, it is important to put your neck out and send an email to everyone that you know. You should let them know that you just started a business and that you would appreciate it if they kept you in mind if they ever needed your services. Also, ask them to pass on your information to anyone that they know.
(17) Contact Local Printing Service Bureaus, Office Supply Stores, ISPs, etc.
Contact your local printing service bureaus, office supply stores, ISPs, etc. to see if they will consider referring business to you in exchange for a referral fee.
(18) Participate in Trade Shows.
Participate in trade shows. This is a great way of getting your name out to industry leaders.
(19) Holiday Promotions.
Take advantage of the holidays. The holidays are a great time to send out a card or gift to past and current customers to show them that you appreciate their past business and to remind them that you still exist. Be innovative and you can think of a low priced option…even if it means homemade cookies with your logo baked into the middle.
(20) Get Involved in Social Events.
Social events are a great place to network too. Just don't overdo it. Just be friendly and there will be an appropriate time to mention what you do. Some examples of social events are church, synagogue, and school events.