A new book by a newly published Canadian author Doretta Lau is getting noticed nationwide and even more so in the immigrant community.    Doretta's  background and experience give the book a unique and wide perspective, something like looking in from the outside, and also looking out from the inside, making the book a fun read.
The title of the book "How does a single blade of grass thank the sun?"  – which is unusually long, arouses curiosity.  I guess that is what the author wants to us to?  Find out the answers.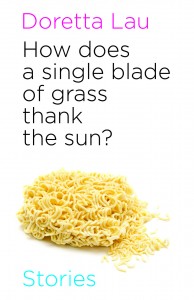 Doretta Lau has been writing since the age of 12.  She works as a journalist for several magazines and newspapers.   Her new book called "How does a Single Blade of Grass Thank the Sun?" has just been published April 23.
The book is a collection of short stories, about Asian Canadians, Chinese, Japanese, Koreans and took place in Vancouver, Los Angeles, New York and Hong Kong.  The stories validate a common feeling of displacement, resettling and adjustments that an immigrant goes through in his or her adopted country.   Or in this case, make fun and laugh at stereotypes and insecurities we can relate to. For Vancouverites, it could be a fun exercise spotting the locale via description.  Gary Shteyngart, master blurb performance artist described her as having " an imagination bigger than the  country of Canada".  No wonder, her book received good reviews, and was named 2014′s  finalist for the Writer's Trust in Canada/McClelland & Stewart Journey Prize.
The book's title refers to an interview with Chinese basketball star Yao Ming, who when asked about the Shanghai Sharks, the team that shaped his formative sporting years, responded, "How does a single blade of grass thank the sun?" Lau's stories feature the children and grandchildren of immigrants, transnational adoptees and multiracial adults who came of age in the 1990s—all struggling to find a place in the Western world and using the only language they know to express their hopes, fears and expectations.
It should be noted that Doretta Lau was born and raised in Vancouver, so she is not a Canadian immigrant author, but rather a Canadian author whose book is about  immigrant stories particularly, those of Asian Canadians.