Larry Kwong, born in Vernon BC to Chinese Canadian immigrant grocer parents was the first Chinese Canadian to play in the National Hockey League in 1948.
He achieved many "firsts", although these accomplishments were not honoured at the time because of his skin colour.  He was the first NHL player from Vernon, BC, and from the Okanagan region.  He was also the first Canadian of Asian ancestry to play in the NHL.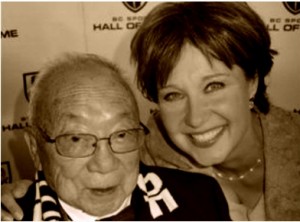 Kwong also fought with the Canadian army during the second world war.  In many ways, he was an exemplary Canadian citizen inspite of the discrimination he faced.   In September 29, 2013, Kwong was honoured as a member of the BC Sports Hall of Fame. This was a bittersweet and proud moment.  Larry Kwong was 90 years old when he finally received his accolade.