According to the 2008 global survey conducted by The Nielsen Company, over 85 percent of the world's online population has used the Internet to make a purchase, up 40 percent from 2006, and more than half of Internet users are regular online shoppers, making online purchases at least once a month. Certain products are inherently more suitable for online purchases. These products share five common factors:
1. Not easily found in many stores
2. Easily described in text and images
3. offered at an attractive price
4. Quality is assured
5. hassle free delivery
Here is a list of the most popular products sold online.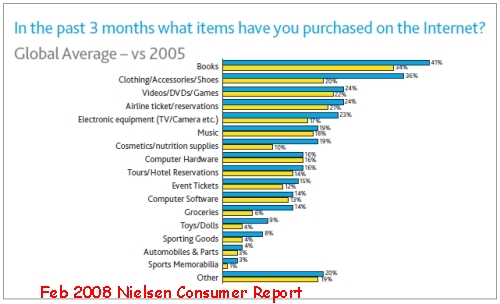 Online retailers must understand where online shoppers source out their products. Below is a chart from the Nielsen 2008 Consumer Report showing how online shoppers determine where to shop. This will help online retailers decide how to reach these online shoppers and where to spend their advertising dollars.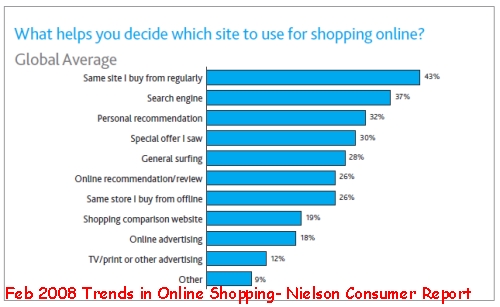 " Consumers tend to stick to what they know when it comes to online shopping, according to Nielsen. 60 percent of online shoppers say they buy mostly from the same site, proving that online shoppers are uniquely loyal. "This shows the importance of capturing the tens of millions of new online shoppers as they make their first purchases on the Internet. If shopping sites can capture them early, and create a positive shopping experience, they will likely capture their loyalty and their money," said Carson.
In selecting sites on which to shop, one-third used a search engine or just surfed around to find the best online store. One in four relied on personal recommendations. "Recommendations from fellow consumers – whether they are people they know or fellow online shoppers – play an enormous role in the decision-making process. The explosion in Consumer Generated Media over the last year means that this reliance on word of mouth, over other forms of referral, looks set to increase," said Carson.