Canadians who are thinking of starting or opening a coffee shop can learn from this coffee chain in Denmark that is truly unique.  Called the Laundromat Cafe, it is truly many many things combined into one.  A laundromat, a cafe, a bookstore.
"It combines the warm, sophisticated feel of a diner-cafe with the functionality of a laundromat. So while doing their laundry, diners can read, have a snack, surf the web, or enjoy a cup of Laundromat Cafe's famous brewed coffee.  Besides its washing machines, the Laundromat Cafe is famous for its generous, tasty brunches, artistic decor (the spectrum-colored bookshelves have their own following), and its family-friendly feel, with books, toys, and menu items for kids."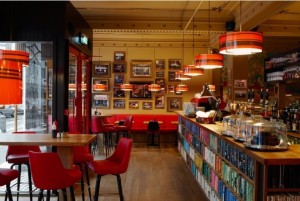 There are so many coffee shops everywhere,  and one way to succeed in this very competitive market is to stand out and be different.  Laundromat Cafe in Denmark is such an example.    Read more about the rest of the article by clicking here.
You can also read about the six types of coffee shop from www.coffee454.c0m.