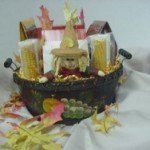 A home-based gift basket service is a low-cost start-up business.  The most important ingredients necessary to run this business are:  creativity, imagination, and organization.
Gift baskets can be customized to fit the individual or corporate gift recipient.  It can range from something very inexpensive to something extravagant.
Many gift basket services specialize in a niche market.   Examples are: Gourmet food gift baskets, books gift baskets, wine and cheese gift baskets, naughty lingerie gift baskets, spa gift baskets, baby shower gift baskets, thanksgiving gift baskets, Easter gift baskets, Christmas Gift baskets, Wedding gift baskets, Mother's Day gift baskets, Father's Day gift baskets, Valentine Day gift baskets, chocolate gift baskets, the list goes on and on……
Your revenue will be limited only by how hard you want to work and how much you want your business to grow. You can easily gross  $10,000 or more annually working part time from home, or $1 million and up operating a retail store or mail order business full time.
Related Articles:
How to Start a Gift Basket Service