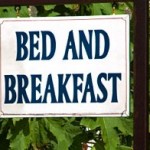 If you have an extra bedroom, a large home or extra space in your home, you have the necessary beginnings to start making extra income as a Bed and Breakfast Inn.  All it takes is a spare bedroom, a flair for cooking, an outgoing personality and a true enjoyment of tending to the comforts of others — and you could be happy and successful with a bed and breakfast inn business.
Basically, bed and breakfast is a transplant of European hospitality, adapted and refined to the American way of doing things. This growing trend services a type of customer who travels but wants a change of pace from the traditional hotel stay.  It might be the corporate traveler, who may prefer the bed and breakfast inn to a hotel when it is convenient to their destination.  For leisure travelers, the bed and breakfast inn may be the destination in and of itself when located near a popular or desirable vacation spot.
There are regulatory requirements to consider when operating a bed and breakfast business.  Whether choosing a business name, registering for provincial and federal tax, insurance, health regulations, you can find basic information to get you started by reading this free bed and breakfast guide provided by small business BC.
Related Articles:
How to Start a Bed and Breakfast Business