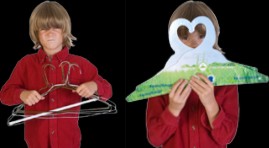 The Smart Hanger is a Canadian invention by Leigh Meadows, an entrepreneur,  & creative thinker, who left England in 1995 and immigrated to Canada to marry "Andrew".
The smart hanger idea was actually conceived by Leigh Meadows' son, Jacob.   He questioned the rationale behind throwing out wire hangers from the dry cleaners and asked two questions: "You can't throw them away?, we're recycling them!" and "Why don't we make them out of paper?".  This is "The Jacob Story" behind the invention.
Thus, the Smart Hanger concept was born.   Doubly smart because the story goes on.  This is actually a 2-Business in one Model.   Leigh Meadows conceived the idea of using the Smart Hanger as a cost effective advertising platform with print advertising using vegetable-based ink.   This then allows the company to give the hangers free of costs to hotels, dry cleaners, and even retail clothing stores.   The hangers come in all kinds of configurations to fit all types of clothing, ie. pants, children's clothes, etc.
The Smart Hanger won 2nd place in the CBC Dragons Den Greenvention contest, it almost won first place because of its strong message.
Anyway, our best wishes to Leigh Meadows for her Smart Hangers, and oh yes, thanks to Jacob!
Related Articles/Useful sites:
1. The Smart Hanger Entrepreneur – Leigh Meadows
2.  CBC Dragons Den Greenvention Contest
3.  Nursery Natural Baby Wipes – Andrea Gregg-Aylott